Shockwave Therapy at
Cummings Chiropractic Family Wellness
What is Shockwave Therapy?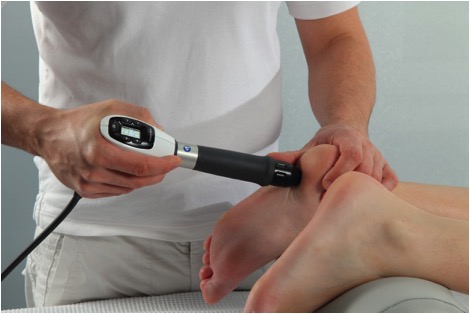 Shockwave Therapy uses acoustic (sound) waves that react with the tissues of the body to promote healing by breaking down scar tissue and calcium deposits, thus promoting the formation of new blood vessels and improved blood flow to the area. The therapy also stimulates the activity of bone cells and in this manner can be used to accelerate fracture healing. Ultrasound is a soundwave based technology used for diagnosis and treatment which our clinic offers. The difference between ultrasound and shockwave lies in the type and shape of the soundwave which have different effects on the body. Due to its fast healing ability, shockwave therapy is becoming extremely popular.
An Effective Treatment
Shockwave, specifically the Storz brand of Shockwave therapy, has been used in many clinical studies proving it is highly effective (up to 91%) for treating:
Back pain
Neck pain
Hip pain
Heel pain (achilles tendonitis and plantar fasciitis)
Elbow pain (tennis elbow and golfer's elbow)
Shoulder pain (frozen shoulder, bursitis, calcific tendonitis)
Strains and sprains (ex. Hamstring injuries)
Shin splints
Muscle aches and myofascial pain/trigger points
Knee pain (infrapatellar tendonitis/jumper's knee, bursitis, Osgood-Schlatter)
Stress fractures, non-union fractures and other bone problems (avascular necrosis)
Why Choose Us for Your Shockwave Therapy?
We believe in providing our patients with the absolute best quality care which is why we chose a Storz brand shockwave therapy machine. Storz medical pioneered the field of shockwave medicine and as their technology developed, they protected their innovations with many patents meaning other shockwave machines aren't as effective. Many high quality studies have used the Storz brand shockwave to demonstrate what a top quality shockwave unit can do to heal injuries. While there are many knock-off machines out there, none come anywhere close to the quality of a Storz unit. This is why many prestigious hospitals and universities (Mount Sinai Hospital, Johns Hopkins University, Duke University, University of Toronto, McGill University and many others) and our clinic have chosen the Storz brand shockwave instead of competitor models.
How Much Does a Shockwave Session Cost?
Our clinic prides itself in providing the absolute best care at some of the lowest prices. We only charge $80 for a Shockwave treatment which is among the lowest rates in South Calgary despite the fact we use a Storz shockwave unit.
Is Shockwave Safe?
Shockwave has an extremely good track record for safety. Some patients may experience some minor discomfort for a day or two after treatment, though most of our patients feel better immediately after. However, shockwave should not be used if you are pregnant, have a pacemaker or have active cancer.
Schedule Your Appointment Today
Discover how natural and effective shockwave therapy can help your body heal faster. Call to book your Shockwave Therapy Appointment at our South Calgary Clinic!
CONTACT US »

Shockwave Therapy South Calgary, Calgary AB | (403) 243-8118