Meet Dr. Amber Knott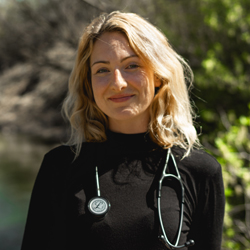 Dr. Amber Knott is a naturopathic doctor with a passion for sharing the important role lifestyle change plays in your life-long health. She believes in guiding patients toward their own version of a solid health foundation. Lifestyle medicine creates this foundation of health and includes personalized nutrition, movement, mindfulness, connection and work-life balance recommendations to ensure optimal function.
Dr. Amber will help you create a personalized lifestyle medicine plan specific to your health conditions or preventative medicine goals. Mindset plays a crucial role in how you approach healthy lifestyle changes, and Dr. Amber uses mindset medicine strategies to optimize how you approach and commit to your healthy lifestyle recommendations. Aside from lifestyle optimization, Dr. Amber will also commonly recommend nutraceutical and botanical medicine therapies to support the body in returning to health during disease states and dysfunction.
When to See Dr. Amber
Dr. Amber enjoys treating hormonal imbalances, including adrenal and thyroid dysfunction (low energy, chronic stress, brain fog, insomnia, weight changes), women's health concerns, paediatric populations (ASD, allergies, eczema, asthma, acne), digestive concerns, mental health concerns, insomnia and other lifestyle related diseases including type II diabetes, hypertension, high cholesterol.
EXPLORE NATUROPATHIC MEDICINE »
Online Content
Dr. Amber has a passion for sharing the important role mindset plays in approaching healthy lifestyle changes. She is the creator of the online course and community, Mindset Medicine, which focuses on making mindset shifts to create life-changing health habits. She is also the author of Conscious Cooking, an ebook filled with mindset shifts for making dietary changes, nutritional science and 50 mouth-watering, plant-focused recipes. Dr. Amber regularly shares about mindset and lifestyle medicine on her online platforms, you can see the content she shares at:
Education & Personal Life
Dr. Amber completed her Doctor of Naturopathy degree at the Canadian College of Naturopathic Medicine in Toronto, ON. Prior to attending CCNM, she received a Bachelor of Science in Kinesiology with a minor in Human Nutrition from the University of Waterloo. She is passionate about sharing her strengths and volunteering with marginalized communities, this has led her to volunteer with Naturopaths Without Borders in Haiti and Arizona, and to spend a month in Morocco supporting the education system in underserved populations. Outside of all things natural medicine, Amber loves reading, learning, yoga, hiking in the mountains, cuddling with her cat and all things mindfulness!
Contact Cummings Chiropractic Family Wellness to schedule an appointment.


Dr. Amber Knott, Naturopathic Doctor | (403) 243-8118